Album of the Day – Poems, Prayers and Promises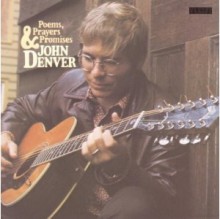 Released in 1971 by RCA Records, Poems, Prayers and Promises was John Denver's fourth studio album. It is considered to be his "breakout album" and contains the song "Take Me Home, Country Roads." The song was co-written by Denver, Bill Danoff and Taffy Nivert. Denver was introduced to the unfinished song by Danoff and Nivert (who had originally envisioned it as a Johnny Cash track) and immediately had to make it his own. Not an immediate hit, RCA continued to promote the song and the single eventually went to #2 on the U.S. Billboard Hot 100 chart. It remains one of Denver's most popular songs to this day.
Poems, Prayers and Promises is now digitally remastered and available as part of the RCA Albums Collection.